Five Best Nursery Sets for Every Budget
This post may contain affiliate links. As an Amazon Associate, I earn from qualifying purchases.
Being a new parent is undoubtedly one of life's most exciting experiences. However, it can also be one of the most exhausting. I still recall the overwhelming emotions I felt when preparing for my first baby's arrival. And I know all too well that the last thing you need in those early days is the added stress of figuring out the best nursery sets to buy for your little one. Trust me; I've been there.
Finding the perfect nursery furniture for babies can feel like a daunting task. You want something that's not only stylish and functional but also fits within your budget.
That's why I've done my homework and scoured the internet to find the best nursery sets for every budget.
Whether you're a first-time parent on a tight budget or ready to invest in luxurious baby furniture, I've got you covered. We'll explore various nursery furniture sets to create a cozy and inviting space for you and your little one.
So, let's explore the world of the best nursery furniture sets together. I promise to make this a stress-free experience for you, so you can focus on what matters – snuggling your new baby a little more.
Benefits of Nursery Furniture Sets
By opting for baby nursery furniture, you'll enjoy several benefits.
Most importantly, it saves you the hassle of piecing together individual furniture items, ensuring a cohesive and well-coordinated look for the nursery.
The best nursery furniture sets often include essential items like a crib, changing table, and storage solutions, providing convenience and functionality in one package.
These nursery furniture collections are designed with baby safety in mind, meeting rigorous industry standards to provide a secure environment for your little one.
The sets also offer long-term value, as many can be converted and grow with your child.
Don't forget to find a comfortable and matching nursery chair, too!
Five Best Nursery Sets for Every Budget
1. Best Nursery Furniture Overall- Delta Children Poppy Crib 6-Piece Baby Nursery Furniture Set
This Delta Children Poppy Crib 6-Piece, Baby Nursery Furniture Set honestly ticks all the boxes you want in a nursery set. The perfect blend of functionality, style, and safety can elevate any nursery decor.
It's a complete nursery set with a gorgeous design and a timeless appeal that never goes out of style.
The set includes a convertible crib, dresser, changing top, crib mattress, sheets, & a changing pad.
The crib is the set's centerpiece and features a sleek, stunning style. But it's not just a crib; with the ability to convert into a toddler bed, daybed, and sofa as your child grows, it is the perfect investment for your child's nursery.
In terms of safety, this furniture set is a parent's dream come true. The crib is certified by Juvenile Products Manufacturers Association (JPMA), meaning it has undergone rigorous safety testing to ensure it meets CPSC safety standards.
The gorgeous wood dresser with three spacious drawers is thoughtfully made for storing your baby's clothes and stuff, and two open cubbies for displaying books or toys.
The set also includes a comfortable and supportive mattress that provides a safe sleeping environment for your baby. Moreover, it is eco-friendly and made of recycled materials (perfect for environmentally conscious parents).
Last but not least, As a mom, I know how important it is to have furniture that is easy to clean and maintain, and the minimalist design of this furniture set certainly delivers on that front.
What I Like the Most
Safe and comfortable
Made of Sustainable New Zealand PineWood
Convertible Crib That Grows With Child
Ample Storage Space
Attached Dresser Drawers
High-Quality Furniture
What I Dislike
Hard to Assemble (According to reviews)
2. Best Nursery Furniture for Small Spaces- Dream On Me Jayden 4-in-1 Mini Convertible Crib And Changer.
Are you looking for the perfect nursery set for your kid's room but worried about limited space? Look no further than the Dream On Me Jayden 4-in-1 Mini Convertible Crib And Changer.
This meticulously designed set is ideal for small spaces without compromising functionality or style.
One of the standout features of this nursery furniture set is its versatility. It's a 4-in-1 mini crib, which can convert into a toddler bed, daybed, and even a twin-size bed as your little one grows.
Moreover, with six beautiful water-based paint options, you can easily mix and match to create a cohesive look that complements any theme or home decor you desire.
Whether you prefer a modern, whimsical, or classic design, this set covers you. Plus, it's super easy to assemble (according to reviews).
The set includes a 3-drawer changing table complete with a convenient changing pad.
The attached changer is a lifesaver when space is limited in your baby's nursery. Equipped with safety straps and an easy-release buckle, the changing pad ensures your baby's safety and security during diaper changes. The three spacious drawers keep your baby's toys and accessories neatly organized.
The set comes with an OEM mattress pad; although it is lightweight and easily maintained, it is thinner. However, if desired, your baby can enjoy a comfortable and restful sleep with the right bedding and an additional crib mattress.
What I Like the Most
Compact and Durable
Made of New Zealand Pinewood
Six Paint Options to Choose from
Easy to Assemble
What I Dislike
Mattress Pad is Thinner
Smaller than a Standard Crib (Might be off for some people)
3. Best in Budget Baby Nursery Furniture Set- Graco Benton 4-in-1 Convertible Crib and Changing Table
With this Graco Benton 4-in-1 convertible crib and changer, say goodbye to those sleepless nights worrying about your wallet and hello to affordable nursery furniture set .that provides comfort, style, and versatility for years to come.
It's a crib and changing table combo. The convertible crib can quickly transform into a toddler bed, daybed, and even a full-size bed. I mean, talk about longevity!
This nursery set is built to last years with a combination of pine wood, engineering wood, and wood composites, ensuring durability and style.
And did I mention that it comes in various colors? You can choose the one that perfectly matches your nursery's aesthetic.
The set ensures safety as it is JPMA and GREENGUARD Gold Certified. Plus, It's designed to keep your little one safe and sound with its protective fence. No more worrying about those tiny humans rolling out of bed.
The set also includes an attached changing table, making those middle-of-the-night diaper changes a breeze.
With three attached storage drawers and two shelves organizing your baby's room has never been this easier. Furthermore, the water-resistant changing pad is a convenient bonus.
What I Like the Most
Value for Money
Sturdy and Timeless Design
Easy to Assemble
Meets and Even Exceeds Safety Requirements
Three Heights Adjustable Mattress
Can Convert into a Full Size Bed
What I Dislike
Not Suitable for Small Spaces
Some reviewers have mentioned that the changing pad cover doesn't fit perfectly.
4. Best Durable Nursery Set- Babyletto Lolly 3-in-1 Convertible Crib with Toddler Bed Conversion Kit
When talking about durability, nothing beats this Babyletto Lolly 3-in-1 Convertible Crib, in my opinion. However, this set initially caught my attention because of its unique and modern design.
The crib's clean lines and stylish two-toned finish added a touch of sophistication and elegance to the room.
But it's not just about looks. The crib is crafted from sustainable wood and is Greenguard Gold Certified, which means it's free from harmful chemicals.
The brand goes the extra mile with this crib's non-toxic, multi-step painting and staining process, making the furniture set lead and phthalate-free. It ensures cleaner indoor air and a safer space for your baby to sleep, play and grow!
The crib has four adjustable mattress height positions! As your baby grows and becomes a little adventurer, you can lower the mattress to keep them safe and snug. It's all about flexibility.
But wait, there's more! This fantastic set includes a toddler bed conversion kit, mattress support, and an instruction manual to guide you through every step.
And here's a bonus: the low profile design of this crib makes it perfect for short moms!
What I Like the Most
Stylish
Grows With Child
Eco-friendly Material
GREENGUARD Gold Certified
Best Crib for Short Moms
Modern Sleek Design With European Touch
Remains Sturdy After Conversions
What I Dislike
Expensive Than Other Nursery Sets
5. Best Splurge Baby Furniture – Evolur Santa Fe 5-in-1 Convertible Crib, Storm Grey with Double Dresser
The Evolur Santa Fe 5-in-1 Convertible Crib, along with the accompanying double dresser, is indeed a popular and highly regarded choice among parents who are looking to splurge on a nursery furniture set that is super functional.
Crafted with kiln-dried hardwood., this collection boasts impeccable craftsmanship and attention to detail that will impress. Fine veneers further enhance the collection's aesthetic appeal, adding a touch of sophistication to any nursery or bedroom.
One of the standout features of the Santa Fe collection is its ability to adapt as your child grows.
The cribs in this collection can easily convert into a toddler bed, day bed, and even a full-size bed with conversion kits and a wooden bed frame (sold separately).
Every detail has been carefully considered, from the complex routing to the dentil molding, fluting, and imperial feet.
The set includes a double dresser inspired by Southwest design aesthetics, offering a timeless and gender-neutral solution. With seven deep and roomy drawers, this dresser provides ample storage space to organize the baby's accessories.
The drawers feature five-piece independent drawer box construction with English Dovetail joints, ensuring strength and stability. The heavy-duty three-tier full extension glides allow for smooth and effortless drawer operation.
My favorite part is the three classy finishes: Antique Brown, Antique Mist, and Storm Grey. This selection allows you to choose the color that best complements your nursery's or bedroom's decor.
Additionally, the dresser can be transformed into a changing table by adding a contour pad (sold separately), providing added functionality.
Furthermore, it has been tested for lead and other toxic elements to meet or exceed government and ASTM safety standards, ensuring your child's well-being.
Although expensive, the brand offers a 1-year warranty, providing peace of mind for your investment.
What I Like the Most
Crib Evolves With Baby
Solid Wood Construction
Three Height Mattress Adjustment
Seven Spacious Dresser Drawers
Relatively Easy to Assemble
What I Dislike
Highly Expensive (comparatively)
How to Buy Nursery Furniture if You Are On a Budget?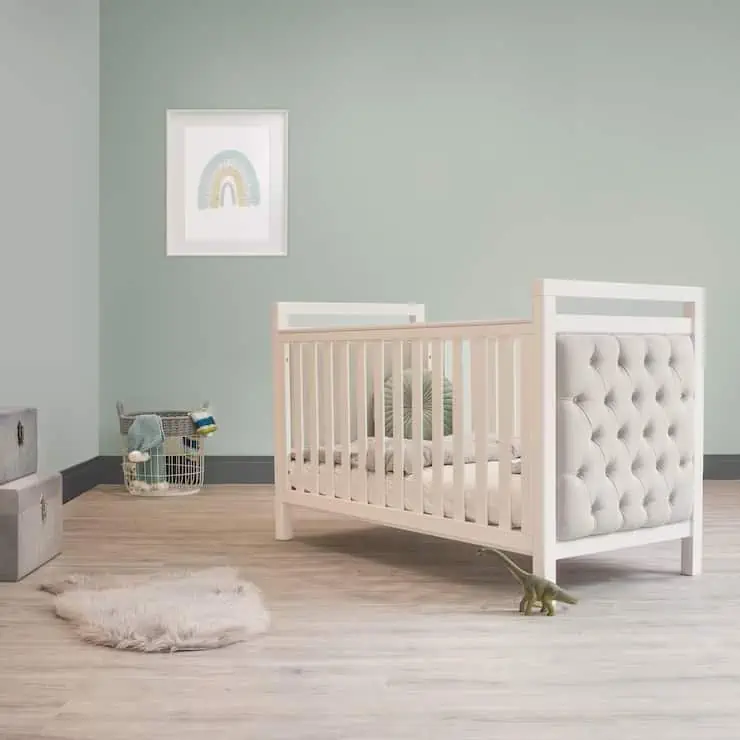 Babies grow so fast, and nursery furniture is typically used for a relatively short period. So purchasing second-hand furniture for babies can be a great option to save some extra bucks for more vital things.
Here are some tips to get fantastic furniture pieces on a budget.
Craigslist, Facebook Marketplace, and Gumtree are my go-to websites for finding great furniture at a bargain. They often have listings for second-hand nursery furniture.
Visit thrift stores, consignment shops, and second-hand furniture stores in your area. These places often have various furniture items, including nursery sets, at affordable prices.
Keep an eye out for garage sales and yard sales in your neighborhood. These events can be a treasure trove for finding inexpensive nursery furniture.
Websites like eBay offer a comprehensive range of nursery furniture sets. Bid on auctions or look for "Buy It Now" options that fit your budget.
Join local parenting groups on social media platforms or online forums. These communities often have members looking to sell or give away nursery furniture at reduced prices.
However, when choosing second-hand furniture, it's essential to exercise caution and follow safety guidelines. Always inspect the items and clean and disinfect them thoroughly. Ask questions about their history and condition; also, consider the transportation logistics before purchasing.
Five Best Nursery Sets for Every Budget: Takeaway
In conclusion, the best nursery for every budget depends on your preferences and financial situation. By carefully considering your needs, researching options, and reading reviews, you can find the perfect nursery set that meets your budget requirements while providing a welcoming and nurturing space for your bundle of joy.